Nothing Compares to a River Cruise
A river cruise is about more than the destination – it's the journey. We invite you to take one of our European river cruises, Asia river cruises, or Africa river cruises and see the world in luxury and comfort.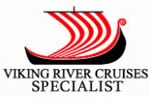 Sailing Europe's storied rivers, the award-winning Viking Longships offer a variety of stateroom categories and true (two-room) suites with full-size verandas. Onboard amenities include a restaurant, bar and lounge, library and expansive sun deck. The ships feature al fresco dining on the Aquavit Terrace, an elegant Scandinavian design and "green" features, such as solar panels, an onboard organic herb garden and energy-efficient hybrid engines for a remarkably smooth ride.
River cruises range from 8 to 23 days, with itineraries featuring Europe's Rhine, Main, Danube, Seine, Rhône, Douro, Moselle, Elbe, Dordogne, Garonne and Gironde Rivers; Russia's Volga, Neva and Svir; Ukraine's Dnieper; Egypt's Nile; China's Yangtze; and Southeast Asia's Mekong.
For more details on Viking itineraries, destinations, ships and deck plans, special offers and more, click here.
SPECIAL 2021 CRUISE PRICING FROM $2299!

AIR FROM $399 + 2-FOR-1 DEPOSIT

Plus $100 Onboard Credit on All 2021 Sailings!
Pricing based on select November 2021 Rhine & Danube 8 day sailings in stateroom category F, economy round trip air from select east coast gateways. Some gateways will have slightly higher air pricing. Onboard credit is $100 per stateroom, new reservations only made between 3/1/20 and 3/31/20 for travel by 12/15/21. All pricing based on availability and is subject to change. 
Nothing Compares to a River Cruise
River cruising is a relaxing, immersive and thoroughly enjoyable form of travel where you can enjoy ever-changing scenery along the banks of waterways such as the Danube, Rhine, Seine, Douro, Volga and Yangtze. Unpack just once and journey into the very heart of iconic cities and charming towns.
Explore the world's great cities
The most cosmopolitan cities developed along the rivers, the world's first trade routes. From iconic "must-sees" like Paris, Amsterdam and Budapest to quaint villages and towns waiting to be discovered, a river provides you easy access to savor the delights of both. Cities like Berlin, Lisbon, Prague, Vienna, Moscow, Cairo and Beijing are just a few that are accessible on a river cruise. In addition to the rivers listed above, cruises along lesser-known rivers like the Mekong in Southeast Asia and the Main in Germany are options.
For more details on Viking itineraries, destinations, ships and deck plans, special offers and more, click here.

What to Expect on a River Cruise
  
ACCOMMODATIONS
River cruises are brimming with onboard amenities. Stateroom are most often river-facing, and come equipped with hotel-style beds, private bathrooms, individual climate control, refrigerators, safes and TVs. Higher stateroom categories may have French balconies, verandas, and separate sleeping and sitting quarters. Rooms range from 150 to 600 square feet. Guests receive excellent and personalized service from on board staff. Additionally, ships include restaurants, lounges and bars, as well as free Wi-Fi. Some ships even come equipped with libraries, boutiques, pools and/or sun decks.
CUISINE
Guests are given a choice of dining options, including where and what to eat. Breakfasts can either be enjoyed al fresco or at the morning buffet, while lunches and dinners can be eaten while viewing passing sights or with friends in a common eating area. Open seating is offered, allowing guests to meet new people or enjoy the presence of the same people each day. Cruises offer regional cuisine and use locally sourced ingredients to help with their authenticity. Also common are wine pairings, selected from local tastes to help guests get a closer understanding of a region's culture.
THINGS TO DO
River cruisers spend more time in the cities, towns and ports along the way. Included shore excursions consist of guided tours that help guests become well-acquainted with the culture, art and history of their destinations. In addition to guided tours, guests can roam freely around local stops or arrange optional shore excursions. There's always ample opportunity to find something to do in every port, whether it's visiting an ancient castle, attending a classical concert or enjoying a famous museum.
Who You'll Be Cruising With
While river cruises can be enjoyed by people of all ages, they generally appeal to people more advanced in age — baby boomers, in particular. Many river cruise lines allow children aboard their ships, although they may have age restrictions in place and usually there isn't much for kids to do. The makeup of a liner can include people of a wide range of nationalities, but more often than not, guests come from English-speaking countries.
Best Times to Go
Whether you choose to travel in the on-season or the off-season, you'll be able to gain a deep cultural experience in each of your destinations. In the spring and summer, you may witness local outdoor events and lively activities that only occur during the warmer months of the year. Cooler weather in the fall may mean you'll run into fewer people in the streets of cities and ports you visit, which will allow you to take your time and get a closer look at sites that interest you without feeling rushed or crowded. And in the winter season, you'll be delighted by festive Christmas markets and enchanted by the holiday traditions and celebrations of the locals.
What You Should Pack
Given that weather will be variable depending on where your river cruise takes you, bringing along both warm and light clothes is wise. Even during warm months, there is wind on the rivers, so it's best to plan for layers even if the weather is hot. Additionally, you'll likely be doing a lot of walking, so bring along comfortable shoes. Lastly, pack some dressier clothes in case you attend a formal event while visiting one of your cruise destinations.
How They Differ from Ocean Cruises
Although river cruises and ocean cruises share a number of similarities, there are also various—and considerable—differences between the two. For one, ocean liners are bigger and offer more stateroom accommodations on average. Appropriately, they're able to host significantly more guests. The smaller scale of river ships means fewer guests, but more opportunities to get to know fellow travelers, which often lead to lifelong friendships.
In contrast to ocean cruises that may include multiple sea days, you will rarely experience a full day of sailing on a river cruise. Typically, guests will awake each morning to find themselves in a new port. With river cruising, you can also enjoy an ever-changing mural of breathtaking scenery from your ship, so the journey itself becomes part of your discovery.
For those without sea legs, river cruises have the advantage of smooth trekking, shallow waters and the gift of land that's always in sight. Lastly, most river cruises offer inclusive value, meaning your Wi-Fi, water, alcohol and included excursions are covered in the price. However, ocean cruises tend to offer more upscale amenities, like fitness centers, multiple dining options and a variety of live entertainment.
Who Would Enjoy a River Cruise?
River cruises are great for everyone, especially those desiring a more relaxed and intimate form of travel. Individuals who've never stepped foot on a ship before will enjoy the relative ease of a river-bound trip with little chance of seasickness. Furthermore, with a focus on cultural exploration of locations, river cruises are perfect for those with a curiosity about art and history, or a general interest in travel.  Every river is unique and each tells a different story—not only of the countries through which it flows, but also of its locks, canals, scenery and bridges.
*Offer SS20: Offer valid on bookings made from Mar 5, 2020 to Mar 31, 2020. Cruise from $2,499 per person based on May-:Jul 2020 departures of Romantic Danube; Jul 2020 departures of Rhine Getaway; Danube Waltz; Lyon & Provence in categories E & F; cruise from $2,999 per person based on Jun-:Sep 2020 departures of Cities Along the Elbe in categories E & F; cruise from $4,399 per person based on select Jul-:Sep 2020 departures of Oberammergau, The Passion Play in categories E & F; subject to availability; other categories may be higher, please call for details. Complimentary Silver Spirits beverage package valid on all categories. Prices are in US dollars and for US residents only. Viking all-:inclusive air with transfers available. Air does not have to be purchased to get cruise/tour offer. All fares reflect cruise taxes, port taxes and fees. Additional restrictions may apply. Book by Mar 31, 2020. Pay in full by Apr 30, 2020. Offer expires Mar 31, 2020.

Air Promo: FREE international air based on May-:Jul 2020 departures of Romantic Danube; Jul 2020 departures of Rhine Getaway; Danube Waltz; Lyon & Provence; Jun-:Sep 2020 departures of Cities Along the Elbe; select Jul-:Sep 2020 departures ofOberammergau, The Passion Play. Call for details. Air prices are per person based on cruise or cruise tour check-:in date and include transfers. Air seats are limited; airfares are subject to change until full payment of air is received. Click here to learn more about airline baggage allowances and fees. Airfares vary on other gateways and departures. Air offers not valid on Alaska, Hawaii, San Juan and Mexico City; call for details. Ask for Offer SS20. Offer expires Mar 31, 2020.

Temporary Exception to Cancellation Policy: A temporary exception to our cancellation policy will go in effect on March 2, 2020.Postpone your cruise at any time up until 24 hours before the planned departure, without incurring any cancellation fees. You will be issued a voucher for future travel valid for 24 months, which can be used on any Viking product (river, ocean or expedition). This temporary exception to our standard cancellation policy is applicable for all guests who currently have a reservation with Viking and for all new reservations made through April 30, 2020.
WHY CHOOSE BERWICK TRAVEL?
Over 10,000 vacations planned since 2001.
Yours starts here!