It's hard to believe that a destination so remote, so exotic and so magnificent could be part of the United States. But Hawaii is all of that, and so much more. When you picture a perfect paradise in your imagination, chances are it looks a lot like Hawaii. Its waters so blue, they seem other-worldly. Its beaches pristine, you feel as if you could be the first human who ever stepped foot onto the smooth glimmering sand. Its forests so lush, they shine like newly cut emerald. Its sunsets so brilliant, the sky seems ablaze with fire. Its volcanoes so imposing, you can only stand back and stare in awe at the wonders nature.
People who have traveled to Hawaii save a piece of it in their hearts. Honeymooners cherish the golden days of unbridled romance. Families treasure the days of welcoming bliss under a shining sun. Adventurers thrill at the thought of catching the perfect wave. With extraordinary natural beauty, fascinating culture, rich history and endless activities, Hawaii can be all things to all people – or something unforgettable just for you.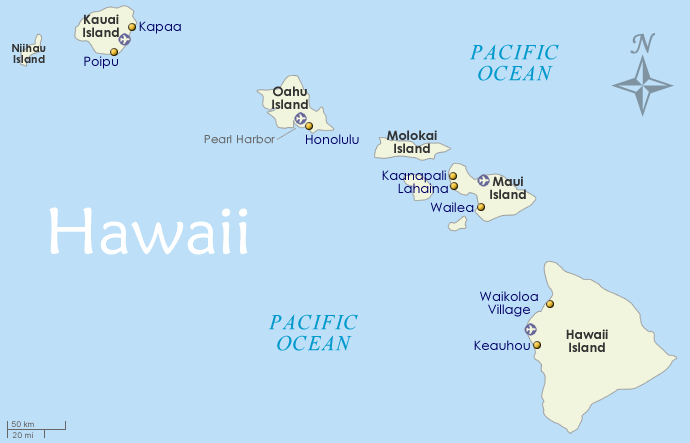 MAUI
With over 80 spectacular beaches of white, red, and black sand; the 10,023-foot Haleakala Mountain; and acres upon acres of greenery, even the wildest of imaginations cannot do justice to what Condé Nast Traveler has voted "Best Island" for over 20 consecutive years.
The Road to Hana is perhaps one of Maui's most famous pilgrimages, but sophisticated Kaanapali Beach—the island's signature beach—and Kapalua's five bays in the West Maui Mountains are beloved among travelers. Others make Wailea, with its five crescent-shaped beaches and stellar golf courses, their home base. In between, the historic whaling village of Lahaina provides opportunities to visit art galleries, watch the whales just off the coast, and celebrate another day in paradise with a luau.
OAHU
Between stretches of awe-inspiring vistas, find somber history in the National Historic Landmark of Pearl Harbor; a taste of royalty in the Iolani Palace; a breath of exoticism in 10,000 species of rare tropical and prehistoric flora in Foster Botanical Garden; and multicultural indulgence in luxurious shopping and fusion cuisine.
A few steps is all it takes to leave a lively, modern city to enter the world-famous sands and timeless resorts of Waikiki Beach. Follow the coast's curves to be dazzled by Diamond Head Crater and the untamed waters of the North Shore, hallowed ground for surfers the world over. Be sure to enjoy the ride on land as well as at sea—the way is lined with pristine, peacefully deserted beaches that seem to mark each mile.
THE BIG ISLAND
In the midst of Hawaii's lush greens, the world's most active drive-in volcano presents stirring vistas of desolate lava fields laced with orange ribbons of flame. On the other hand, the black sands of beaches like Punaluu remind you of life among the ashes, with baby palm trees bursting from coconut shells.
This contrast of improbability is one of the Big Island's most striking characteristics. Tropical foliage between the snow-capped mountains of the Mauna Kea. The rustic charm of cattle ranches, only minutes away from championship courses in the "Golf Capital of Hawaii." Active adventure biking the legendary Ironman Route, or on double the wheels driving the Hamakua Heritage Corridor, the Pololu and Waipio Valley Lookouts, and the Valley of the Kings. All on the island big enough to have it all.
KAUAI
Whales may winter in Kauai, but with five distinct resort areas, travelers land in Lihue year-round. The oldest in the Hawaiian chain, some of its greatest treasures are accessible only by sea or air. The Na Pali Coast on the North Shore is one of them; the 11-mile Kalalau Trail another. However, most set their sights on Princeville, Hanalei Bay, Ka Ulu o Laka temple, and the Coconut Coast.
Out west, the Waimea Canyon is reason enough to drive out while the South Shore invites sunbathers to what the Travel Channel, monk seals, and sea turtles have dubbed "America's Best Beach," Poipu. Between it all, find ten golf courses and resorts that will make you momentarily forget this island still mostly belongs to Mother Nature.
LANAI
Once the largest pineapple plantation in the world, Lanai has embraced a newer identity as a remote island retreat. Traffic lights are nowhere to be found on its mere 30 miles of road, and routes like the Munro Trail—which leads from Lanai City through rainforest to the peaks of Lanaihale,—is best taken on foot, bike, or four-wheel drive.
Dole Park marks the center with shops, dining, entertainment, and war memorials. Northward, a natural memorial can be found on Kaiolohia, nicknamed "Shipwreck Beach"—one of which is visible from shore. To the south is Puu Pehe's romantic legend and spinner dolphins. Add to these untouched beaches and star-designed golf courses, and it's easy to see why so many return to this sweet slice of paradise.
WHY CHOOSE BERWICK TRAVEL?
Over 10,000 vacations planned since 2001.
Yours starts here!