Sandos Caracol Eco Resort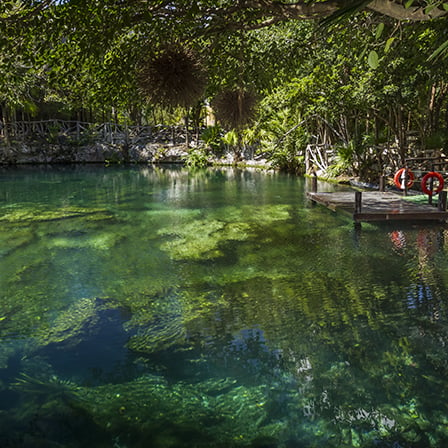 Why we like it: With eco right in the name, there's no doubt about this resort's focus.
Every Sandos hotel and resort on the Mexican Coast has its own lifestyle niche it strives to fill. At Sandos Caracol, they're green with pride about theirs! Although all Sandos properties offer earth–friendly touches, this one makes ecological responsibility and consciousness its headline. They use recycled paper, ultra–efficient air conditioning and offer free biodegradable mosquito repellent throughout, but the available Xcalacoco Experience—an immersive narrative that pays homage to the land and its ancient culture through different interactive activities—is the star of the show. The story starts on the beach, makes its way to a cenote and concludes with a Fire of Life ceremony.
Guided tours can also take you to the 16 natural cenotes in the Mayan jungle, and to search for indigenous animals and plants, the latter of which are supported by the resort's repopulation programs. Countless nature–based adventures here include biking around the property perimeter, hiking the mangrove or cenote paths, floating down the Mayan River, identifying birds in the avian sanctuary or white–tailed deer in the jungle or observing mangrove crabs, iguanas and turtles in the lagoons. And while this stay will leave its mark on you, you can leave a piece of yourself behind, too; plant a tree to commemorate your stay.
Longitude 131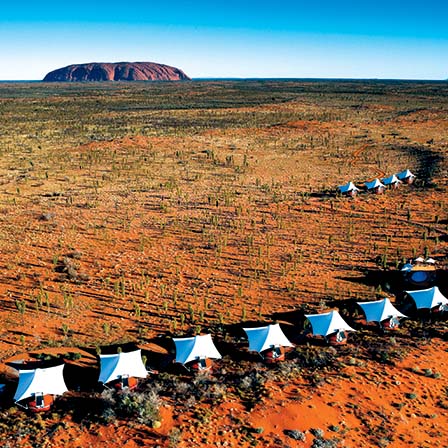 Why we like it: No permanent structures mean no permanent footprint at this uber-luxe nature retreat.
This resort is miles away from any ordinary hotel or campground, both literally and figuratively. Its 15 massive luxury tents are a far cry from what you may remember of childhood camping, featuring indulgences like king–size beds, framed artifacts as décor, local indigenous artwork, en suite baths with rain showers, floor–to–ceiling windows, organic linens and air conditioning and lighting strictly powered by the sun above. That and the fact that the entire luxury resort is built without actual "buildings," but rather on stilts that allow for easy dismantling, makes it a beacon of green in the Red Centre of Australia's Outback.
It's easy to commune with Mother Nature when the area's greatest icon—Ayer's Rock—stands at the foot of your bed, positioned in the heart of a World Heritage Site. Hidden in the curve of a sand dune, its structures leave views of the park entirely uninterrupted for all visitors, who come for the magnificent hiking. The resort will provide you with a reusable water bottle to stay hydrated with. Other options? Engage in amateur astronomy, dining out under the stars, guided talks on the geology and ecology of the land or an introduction to the traditional indigenous way of life.
InterContinental Bora Bora Resort & Thalasso Spa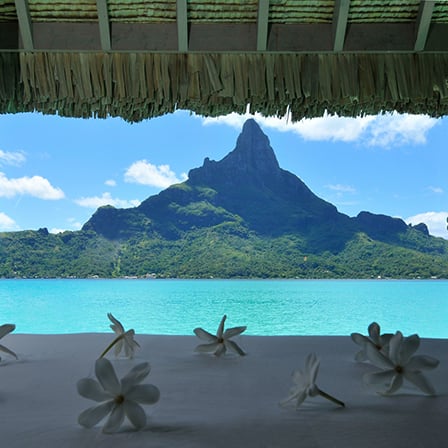 Why we like it: "The Spirit of the Ocean" is alive and well here – its headquarters are right on the resort.
Water, water everywhere… so why not use it to make a stay in this floating oasis of a destination even more wonderful? That was the thinking behind using deep–sea water in this stunning resort's eco–friendly air conditioning system. Naturally cold due to the depth from which it's drawn, these waters are used as a source of cooling—just one of many innovations that made this resort EarthCheck Silver certified.
That's not the only "check" they're writing that our planet can cash: InterContinental Bora Bora Resort & Thalasso Spa also participates in the international Reef Check program, a volunteer–based research program that observes coral growth and supports education on its biology and health. An on–staff Green Team, including hotel employees and the in–house marine biologist/veterinarian, work together to brainstorm ideas to conserve and protect the environment. Also on–site is the Te Mana O Te Moana ("Spirit of the Ocean") association, an International Union for Conservation of Nature organization founded in 2004 by the owner of the InterContinental Resorts of French Polynesia to support research, conservation, communication and education in the region.
1 Hotel South Beach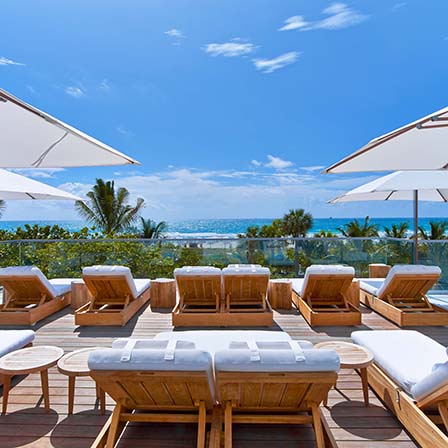 Why we like it: Better than a ribbon around your finger, room keys here remind you to recycle everything.
Those recycled wood keys, cheerily emblazoned with that friendly tip, unlock more than just a room that features high–grade water filters to distill your tap water, preservative– and paraben–free cleansers, and hemp–blend Keetsa mattresses—they open up a new way to experience spectacular South Beach. Here, natural light shines on untouched, real textures and materials that harken directly to the terra firma and pay homage to it.
However, luxury is not sacrificed for simplicity. The house shuttle is a Tesla, a sleek, premium vehicle that proves that electric cars are just as appropriate for captains of industry as they were for hippies. Star chef Tom Colicchio adds his own opulent touch as the director of all the hotel's sustainability–focused restaurants, but for a quick snack, a local farm stand is set right into the lobby.
Sunset at the Palms Resort & Spa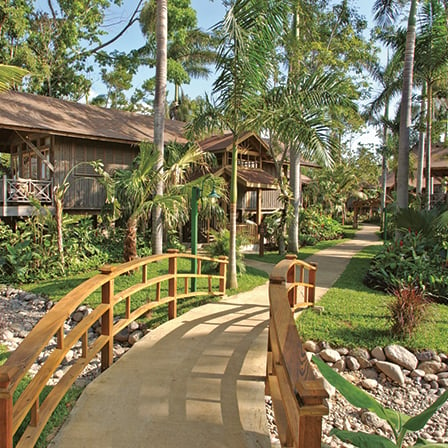 Why we like it: Who says treehouses are for children? Certainly not this upscale resort.
The very first hotel in the world to receive the UK's Green Globe certification for environmentally sustainable tourism, the tropical landscape Jamaica is so revered for is lovingly made a focal point here. It's a secluded Balinese–style resort where no building is higher than the many namesake palm trees that fill the perimeter. Its open–air design and treehouse–style rooms bring you even closer to nature. A bamboo swim–up bar introduces another organic, sustainable material.
This luxurious all–inclusive keeps the hug from Mother Earth going with fruits and vegetables so locally sourced that some—like bananas and organic herbs—come straight from the resort itself. Anything not used is returned to the community; produce waste is readily given to local pig farmers to support their livestock. Glass and plastic bottles, cardboard, paper, aluminum and stainless steel are also conscientiously separated for recycling to create another full circle.
Why we like it: Don't leave a mark on this world-class tropical destination… leave a tree instead.
With privilege comes responsibility and that lesson is one that can be easily taught to the next generation at this family–friendly, Rainforest Alliance Verified™ luxury resort. Here, youngsters can be introduced to Unlimited–Luxury® while also learning how they can make a positive impact anywhere they go. Several activities throughout the year give all guests the opportunity to go green, including a tree–planting project on adopted land nearby. As it grows, so will your sense of accomplishment with every photo and missive you get documenting its progress.
On a commercial scale, the resort uses laundry detergent that is gentle on the environment, ships its used oils to a nearby factory to be repurposed as biodiesel fuel and donates its seaweed from daily beach cleanups to the community for composting. These initiatives and participation in the Amigos de Sian Ka'an—a nonprofit that works to conserve biodiversity, support socioeconomic development and influence environmental policies—are just a few of the ways they support their local community and lands today.