"Star Wars: Rise of the Resistance is the most ambitious, immersive, advanced, action-packed attraction we've ever created. We threw out the rulebook when designing this attraction to deliver the experiential storytelling on a massive, cinematic scale," said Bob Chapek, chairman of Disney Parks, experiences and products.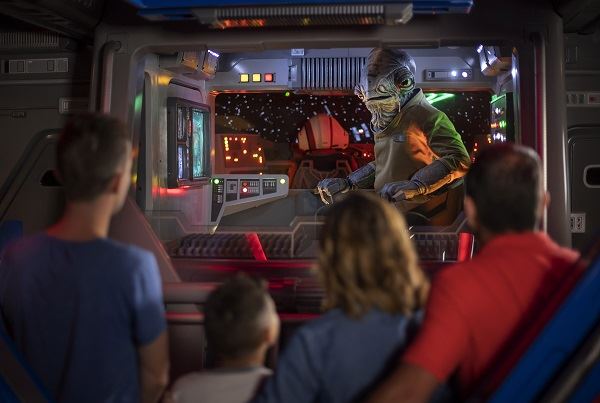 How the fun unfolds
Star Wars: Rise of the Resistance brings guests into the middle of a climactic battle between the First Order and the Resistance, including a faceoff with Supreme Leader Kylo Ren. The 20-minute journey takes guests through multiple phases, starting aboard a full-size transport shuttle and progressing to a nearby Star Destroyer for a thrilling adventure. Star Wars enthusiast or not, one can't help but be awed by the epic moment when the doors open to the hangar bay of the Star Destroyer and 50 First Order Stormtroopers are waiting to greet riders.
In Millennium Falcon: Smugglers Run, guests climb into the cockpit of "the fastest hunk of junk in the galaxy," taking control of the Falcon as the ship hurtles through space in a ride simulator. Each rider has a different role, some are pilots while others are gunners and engineers, creating multiple ways for guests to engage with the attraction in real time and based on the actions they take while onboard.
Star Wars-themed hotel to open in 2021
The next phase of the Star Wars vacation experience at Walt Disney World, Galactic Starcruiser, a land-based "ship" hotel called the Halcyon where every window will feature views into space, will open in 2021, according to Disney executives. In similar fashion to a cruise experience, guests will arrive and depart together at the Galactic Starcruiser Terminal for a two-night journey that will allow them to live their own Star Wars adventure.
Onboard Halcyon, they will stay in cabins with window views of the galaxy beyond, featuring ever-changing vistas as the ship progresses from place to place. Guests will be able to explore the Halcyon and discover hidden spaces in the mechanics of the ship and also make choices during their adventure that will determine how their Star Wars journey unfolds. As part of the journey, guests will be able to visit the Starcruiser's bridge to learn about how to navigate the ship, interact with members of the crew and familiar Star Wars characters, and of course, take an excursion to Galaxy's Edge.

by Kerry Tice, Travel Market Report / December 05, 2019