AmaWaterways River Cruises
Nothing Compares to a River Cruise
An AmaWaterways river cruise is about more than the destination – it's the journey. We invite you to take one of our European river cruises, Asia river cruises, or Africa river cruises and see the world in luxury and comfort.
River cruising is a relaxing, immersive and thoroughly enjoyable form of travel where you can enjoy ever-changing scenery along the banks of waterways such as the Danube, Rhine, Seine, Douro, Volga and Yangtze. Discover local culture and sights on included tours, and then hop back on your luxurious river cruise ship and sail to the next stunning city or charming town.
Included in the fares of our featured AmaWaterways river cruises are shore excursions in every port of call; all dining on board; fine wine, beer and soft drinks with lunch and dinner; internet access and Wi-Fi; and bicycles that you can use to explore on your own or join our guided bike tours.
Featured AmaWaterways River Cruise Promotion
Book by June 30, 2020 and save up to $1500 per stateroom for 2021 cruises!
Terms and Conditions: *All rates listed are in USD. Early Booking Reward of 5% cruise savings is per person based on cruise-only fare and applies to balconies and suites in Europe (applicable to all categories in Asia). *Early Booking Reward of 5% is valid on all 2021 Europe and 2021/2022 Asia cruises (excluding Africa and Holiday cruises) and expires June 30, 2020. Unless stated otherwise, 5% Early Booking Reward is not combinable with group discounts. Up to $750 per person savings are available on select 2021 departures only and is combinable 5% Early Booking Reward. Solo travelers must pay an additional single supplement amount before receiving any discounts. Past Guest Savings may be combined with Early Booking Reward and are applicable only to past guests. 5% Early Booking Reward is applied after all other promotions. Offers are limited to availability, capacity controlled and subject to change or termination without notice. Other restrictions apply. 
For more details on AmaWaterways itineraries, destinations, ships and deck plans, special offers and more, click here.

At AmaWaterways, we love what we do — providing our guests with the best travel experiences possible. In fact, "Ama" is derived from the Latin word for "love." It is a concept that permeates every aspect of our river cruises, from the design of our ships to the development of our itineraries to the high levels of service we deliver to our guests. It is a philosophy that drives our attention to detail, constant innovation and culture of always making our guests our top priority. It is the reason our guests all have a story about why it was the best cruise they've ever taken. When you sail with AmaWaterways, you will experience the luxury of more – more ways to discover, more ways to indulge and more onboard amenities. With an award-winning fleet, critically acclaimed dining and unique tour options, you will have the trip of a lifetime on our cruises.
More VIEWS
Most of the staterooms on AmaWaterways' fleet feature not just one, but two private balconies — a French balcony and a full outside balcony. Together, they provide a unique panoramic view of the beautiful sights along the river and maximize the natural light coming in. With twin balconies, you can enjoy the river however you like. 
More ROOM
AmaWaterways' ships are your floating sanctuary. That's why we chose to carry fewer guests (at most 164), so that we could make your staterooms larger and provide more amenities. With fewer people on board, public spaces like restaurants and lounges are never crowded, and accommodations range from 155 square feet all the way up to 350 square feet.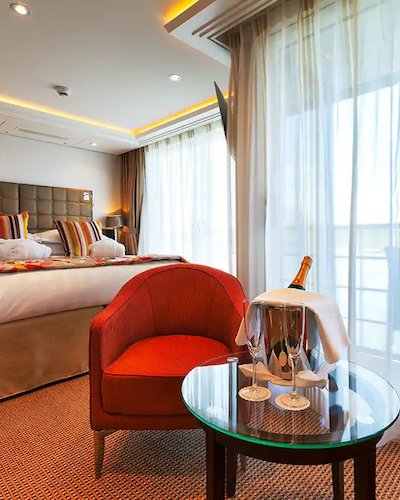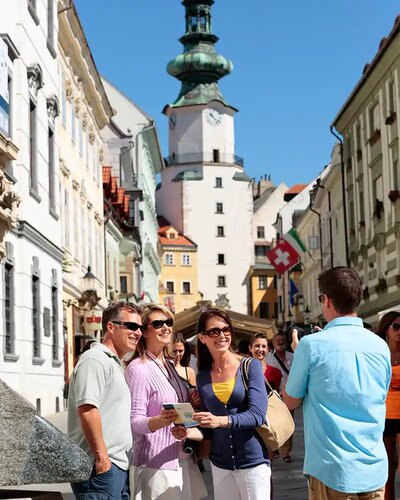 More INCLUDED TOURS
We realize that our guests have different tastes, so AmaWaterways has developed a menu of shore excursions in every port of call. In many destinations, you'll be free to choose from one of several options — all of which are included in your cruise fare. There's always a city tour designed to show you all the renowned highlights and landmarks in grand capitals and charming villages alike.
Is it your first time in Vienna? Opt for an unforgettable exploration of the major sights led by a local, English-speaking guide that is well-versed in history and culture. Have you already been to Nuremberg? Instead of taking the city tour, indulge in a bratwurst and beer tasting on one of AmaWaterways' Special Interest Tours, which are specially designed to place you in the midst of local life. We also offer different tour paces: Gentle, regular and active. The choice is yours.
More ACTIVE WAYS TO DISCOVER
With AmaWaterways, you have the option of exploring Europe's amazing sights like the locals do. We were the first river cruise line to carry an entire fleet of complimentary bicycles on board, so you can experience biking alongside enchanting riverside pathways and in city centers. Whether you feel like joining one of our exclusive guided bike tours, or want to go discover on your own, there are many ways for you to explore on two wheels during your cruise.
The beauty of Europe doesn't just lie in its architecture and landmarks – there are also breathtaking things to be seen when you venture out into nature. That's why AmaWaterways has designed special guided hikes that will take you a bit off the beaten path in some very beautiful destinations like the Wachau Valley. These unique, active tour options are included in all AmaWaterways cruise fares so that you have more choices when it comes to how you prefer to explore.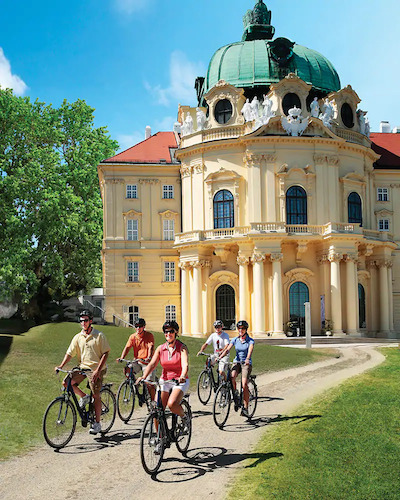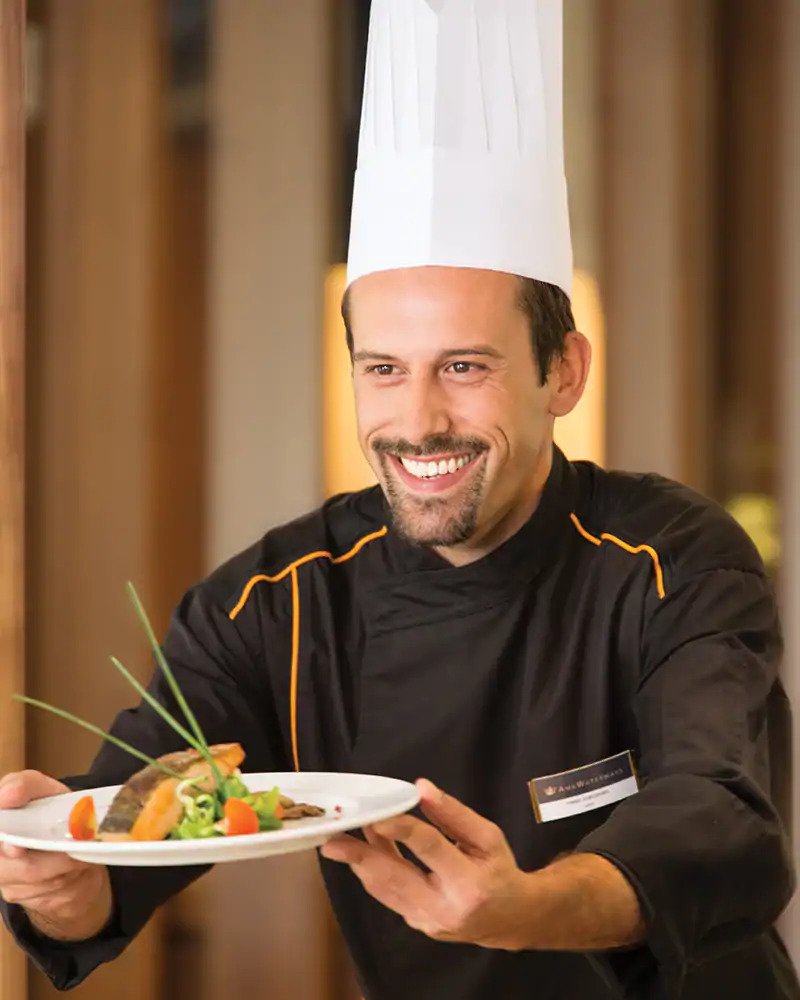 More DINING
AmaWaterways was invited to be a member of La Chaîne des Rôtisseurs – a prestigious international culinary society – and with good reason. Our expert chefs craft menus that feature exquisite, locally-inspired cuisine as well as traditional Western offerings. We are the only river cruise line that has The Chef's Table, an intimate specialty restaurant where you can watch the chef prepare a lavish dinner right in front of you. Each meal is specially paired with premium local reds and whites from Europe's renowned wine regions, with new selections each night. There's also sparkling wine and fresh juice with breakfast, menu service during lunch, as well as delicious tapas and snacks in the Main Lounge between meals.
All onboard dining, as well as unlimited wine and beer with lunch and dinner plus Sip & Sail Cocktail Hour each evening, is included so you can indulge whenever and however you'd like.
More WAYS TO RELAX & BE ENTERTAINED
With fewer guests on board, AmaWaterways has space for luxurious amenities. Relax with a massage after a day of exploring, stay in shape with our fitness room and watch castles go by while enjoying a cocktail and taking a dip in our sun deck pool with a swim-up bar. Whether it's traditional Bavarian music, a local quartet or contemporary piano favorites, you will enjoy an eclectic schedule of onboard entertainment every night.
More STAYING IN TOUCH
While on your cruise, you'll want to share all the pictures you take of everything you see and do. And, you also want to stay in touch with your friends and family back home. That's why AmaWaterways provides free internet access and Wi-Fi when you're aboard. Your stateroom also has a computer that you can use in case you didn't bring your mobile device, or just want to sit down at a desk to surf the web.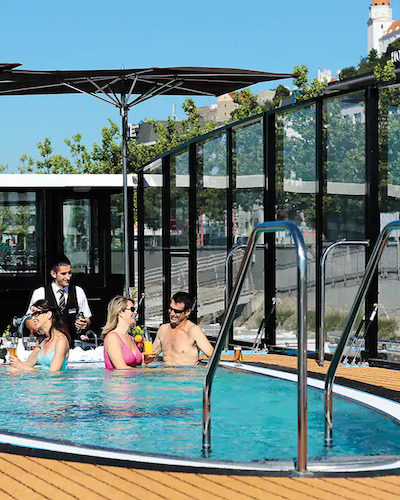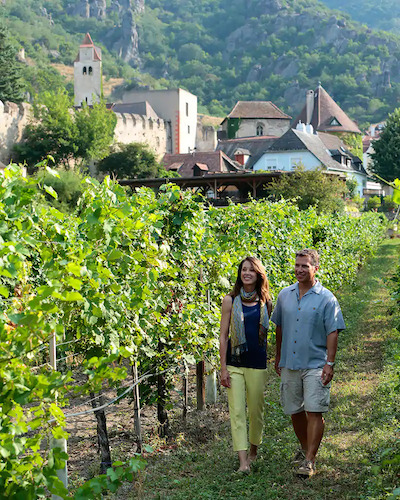 More INNOVATION
AmaWaterways has always been inspired by a vision of innovation. Among other things, AmaWaterways was the first to offer twin-balcony (a French balcony and outside balcony) staterooms, include a specialty restaurant, carry a fleet of bicycles on board and offer a broad selection of tours. Our ships are uniquely designed to minimize the impact of water levels on the river, featuring low drafts for when there isn't enough water, and specially engineered wheelhouses for when there is too much water.
More CRUISE OPTIONS
AmaWaterways offers unique itineraries that let travelers delve even deeper in to the rich history and culture of Europe. Our Wine Cruises are the perfect way to add an epicurean dimension to your journey, with bonus wine-related excursions and even a wine expert on board. Or, you can get into the holiday spirit like never before on one of AmaWaterways' Christmas Markets cruises.
For more details on AmaWaterways itineraries, destinations, ships and deck plans, special offers and more, click here.
AmaWaterways was founded in 2002 by three families, but our river cruise story began well before that. President Rudi Schreiner was born in Vienna, at the heart of the Danube. His love of design drew him to architecture, but his even greater love of travel drew him to places far and wide. In 1975, he traveled to South America for a journalism assignment on the Amazon. It was here that he designed his first ship, using what he could find to build a raft that would take him up and down the river during the next 7 months. Soon thereafter he started working in travel, creating unique tour experiences in Europe.
A Turning Point
When the Rhine-Main-Danube canal was built in 1992, Rudi realized the potential for touring as many as 13 European countries by river. He started the North American operations for many of today's major river cruise companies, developing itineraries and ships that would become the templates for what we know river cruising to be today. After years of success as a driving force in the industry, Rudi decided to start his own venture — one that would provide guests with a higher standard of luxury travel by river. That's when he teamed up with Kristin Karst and Jimmy Murphy to start AmaWaterways.
A Team of Pioneers
Kristin was born in Germany and brings extensive experience in travel, river cruising and customer service to the company in her role as Executive Vice President. Jimmy Murphy was a brilliant travel entrepreneur, having built Brendan Vacations, one of the most successful tour operators in the U.S. Jimmy's son, Gary, who also played a major part at Brendan, is now Vice President of Sales at AmaWaterways. Together with Rudi, a true team of pioneers emerged.
The Story Continues
Since 2002, AmaWaterways has offered unforgettable river cruises aboard award-winning ships sailing legendary rivers to the heart of Europe, Southeast Asia and Africa.
Family-owned and operated, we pride ourselves on our passion for river cruising, the unparalleled service of our staff and crew, our exquisite La Chaîne des Rôtisseurs dining, and our innovations, which range from staterooms with unique "twin balconies" to included shore excursions featuring active biking and hiking options. Our most recent innovation, the extraordinary AmaMagna, debuted on the Danube River in May 2019 with over 50% suite accommodations, four unique dining venues, an Exclusive Concierge Golf Program and groundbreaking Water Sports Platform, among several other innovations.
With the highest-rated ships in Europe according to the third edition of Berlitz: River Cruising in Europe & the USA, AmaWaterways has received countless honors and accolades including Town & Country River Cruise Awards as "Best Overall," "Best for Food," "Best for Onboard Activities" and "Best for On-Shore Activities," as well as 2017 AFAR and Recommend magazine Reader's Choice Awards for "Best River Cruise Line."